Invisalign in Houston, TX
Invisalign Clear Aligners
Discreet. Comfortable. Convenient.
Invisalign Clear Aligners in Houston & Lake Jackson, TX
Our team at Cooper Orthodontics is dedicated to improving the smile of every patient that enters our office. We are also dedicated to providing you with the orthodontic treatment option that best fits your lifestyle. For so many of us, traditional braces aren't the most practical or aesthetic option. That's why we offer Invisalign Clear Aligners.
Invisalign Clear Aligners are a virtually invisible, removable treatment alternative to traditional braces. Similarly to our Cooper Clear Aligners, Invisalign works by applying gentle pressure to your teeth, guiding them into the correct position. Invisalign is removable, so you don't have to worry about avoiding certain foods or changing your oral hygiene routine. Dr. Cooper and Dr. Henson use a 3D model of your teeth to create a unique treatment plan just for you!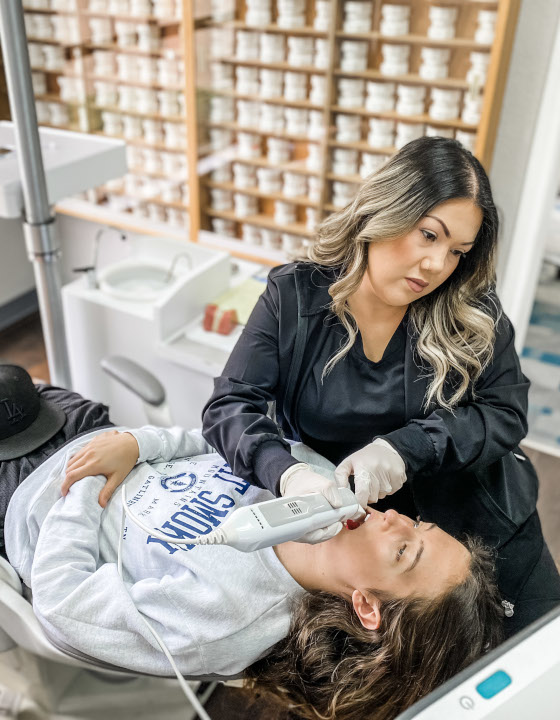 The Fast Track to Your Best Smile
Get a Great Smile in Half the Time
Did you know our Cooper Orthodontics team can transform your smile with Invisalign 50% faster than with traditional braces? Here are some other perks to Invisalign:
Invisalign is discrete so it won't interfere with your appearance.
Invisalign is comfortable and won't poke your cheeks or gums.
Invisalign is removable so it won't interfere with your routine.
Does Invisalign sound like the right treatment option for you and your family? If so, call our office today to set up your complimentary consultation!
Keeping Your Smile on Track
Transforming Your Smile with Invisalign
Invisalign clear aligners are made from SmartTrack material, a medical grade flexible plastic molded to fit each tooth and provide maximum comfort. Dr. Cooper and Dr. Henson will create a unique treatment plan for you that will guide you through a series of clear aligner trays. Each tray should be worn up to 22 hours a day, but can be removed while you eat, drink, brush and floss.
With Invisalign clear aligners, we can help you transform your smile into the smile of your dreams, without changing your appearance or causing you to miss out on your favorite foods and activities. Invisalign is a convenient, comfortable and efficient treatment option. If you think Invisalign sounds like the best option for you, call our office today to set up your complimentary consultation.
At Cooper Orthodontics, we are confident that you will love your new smile and we think you'll enjoy the journey to that smile as well. But you don't have to take our word for it. Listen to what some of our awesome patients have to say about Cooper Orthodontics and their experience.